The Chronicles of Freylar
Introduction | Release schedule
Welcome to Freylar; a domain set in a fantasy realm akin to the fairy-tale worlds described to young children. However, this surreal alternate world has a darker undercurrent, and it falls to The Blades, a militant order, to defend the people from those half-seen horrors born of the shadow. The Chronicles of Freylar closely follows the native inhabitants of Freylar - the Freylarkai - and their continued struggle to survive in their beautiful, yet hostile, environment.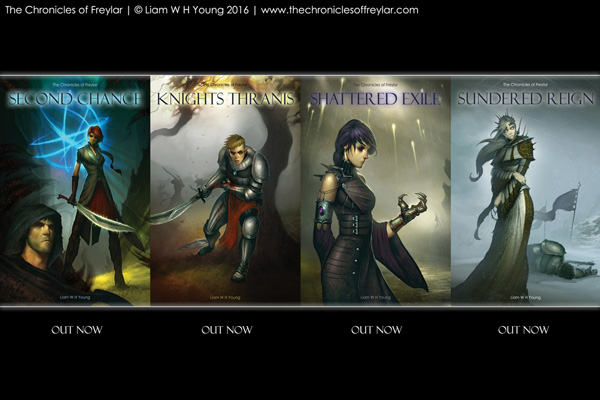 The Chronicles of Freylar is suited primarily to adults and mid-to-late teens. The series is a work of both dark fantasy and dystopian science fiction, which follows the dual identity of its protagonist across two very different worlds, linked by a chance encounter. Some scenes of horror, violence and mild sexual content are present throughout the series, though it is predominantly a work of fantasy. Volumes #1 and #2, titled Second Chance and Knights Thranis respectively, are available now in both eBook and paperback editions. You can follow the development of the series here, as well as on social media.



Mailing list | Become a Blade Aspirant
So you think you have what it takes to become a Blade Aspirant? Well then, click here to test your mettle.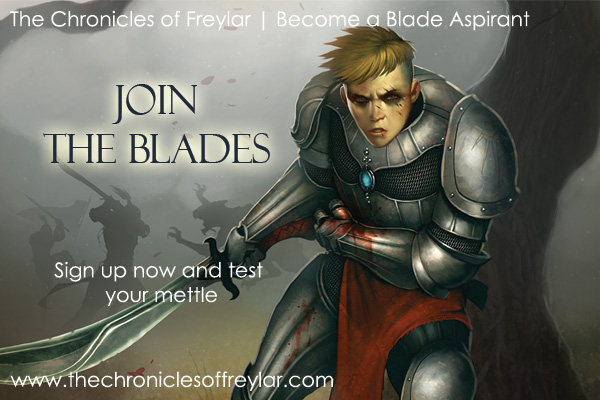 The Chronicles of Freylar newsletter | Issue #01
The Chronicles of Freylar newsletter | Issue #02
The Chronicles of Freylar newsletter | Issue #03
The Chronicles of Freylar newsletter | Issue #04

eBooks | Paperbacks
Second Chance

| Volume #1 | The Chronicles of Freylar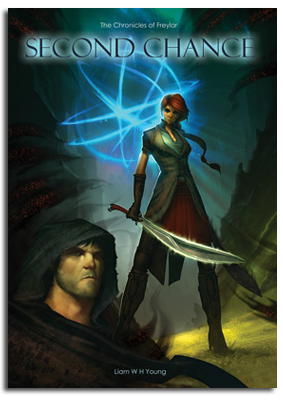 Callum is a member of the Shadow class, the lowest rank in human society. His kin lead desperate lives; they survive on the scraps left by an over-indulgent post-apocalyptic humanity, clinging to the remains of a broken metropolis. Their increasing numbers – a result of ineffective government policies failing to address the issue – prompts those in power to instigate an unethical process of forced relocation known as the Rout, ignored by an indifferent society looking to bury its problems. Abandoned by his parents to endure a childhood of children's homes, followed by teen life surviving on the streets, Callum develops a staunch determination to endure the horrors life throws at him. He is a survivor, able to think fast on his feet, yet his principles hasten his near death during a chance encounter with an enigmatic alien entity. Callum is given a choice; take his chances with his now ruined body, or gamble on a new life.
Awakened within the comatose body of a non-human female and faced with a distraught father, Callum is reborn as Rayna, in an entirely new world, presenting the opportunity to start over. Rayna's new world – Freylar – has a darker undercurrent, and it falls to The Blades – a militant order – to defend the Freylarkai from those horrors born of the shadow. Rayna is inducted into The Blades as she tries to navigate through her strange environment and master new and wonderful abilities, yet she finds herself fighting two battles; one against the repressed memories of her miserable past, and the other a war versus fresh nightmares seeking to claim dominance over her new world.
You can preview the eBook here on Amazon Kindle.
Also available through the following online stores:








Reviews
"Second Chance: The Chronicles of Freylar: No.1"
I would definitely recommend this book and was hooked from the very first chapter. Definitely one of those "hard to put down" books. Looking forward to the next book in the series.
Christine Field - Waterstones - 5/5
"The narrative is engaging and has good pace"
The narrative is engaging and has good pace. The characters are well crafted and relatable in spite of being totally different. I absolutely loved the concept of a "body switch" situation. Very much looking forward to reading about Callum/Rayna's continued development in The Blades during the next instalment. If you're looking for a Sci-Fi/Fantasy/Adventure with an interesting twist, look no further. Thoroughly enjoyed. Highly recommended.
Matt Wells - Amazon UK - 5/5
"Intriguing and a great debut novel"
Great for fantasy lovers and an interesting take on the body-swap concept. I am looking forward to the next book!
Liane Simmods - Waterstones - 5/5
"A very prominsing start"
I have found the author's first novel to start slowly for me. There is a good reason for that though. He tries to introduce us to two new worlds at the same time, showing all intricate details: a cruel and unforgiving dystopia, and magical fantastic world. The author does not try to 'put on anyone else's hat', he is not copying successful, great writers, he has his own ideas, plots and characters. I have found the main character's straightforwardness and honesty, and unappeasable curiosity a really good mix of personality traits. I am looking forward to read the next episode, hoping that it will be even more captivating...
Tibor Morocz - Amazon UK - 5/5
"When I read the first two chapters I knew I..."
When I read the first two chapters I knew I had to concentrate properly on the story. At chapter 4, I cannot put the book down. It is intriguing and I am looking forward to a sequel!
S J Coole - Amazon UK - 5/5
"Can't wait for the second book - very good story"
I really like fantasy books and this book was really good, it had a great story that kept you gripped wanting to know what was coming next. Will be looking forward to the second part.
Sandra Birkinshaw - Amazon UK - 5/5
"Bring on the next book PLEASE!"
It is rare I find a new author where the world brings they create brings bright new ideas and ignites one's imagination, but here Second Chance achieves this with not one but two worlds. First couple of chapters are intense in their description, but once in, I struggled to put the book down as the story quickly gripped me with a wanting to find out more. I strongly hope this is the first of many books the author creates within these new worlds ripe for more adventure and intrigue!
Amazon UK - 5/5
"Great debut for a promising author and series"
I very much enjoyed reading this. A good premise for a series while also being an entertaining tale in its own right. I found the characters to be interesting and well fleshed out while also leaving the reader wanting to know more about them and their motivations. From the authors Facebook page I believe that a sequel is already in the works. Look forward to reading it!
David Padwick - Amazon - 5/5
"Couldn't put this book down. Fantastic!"
This is a fast-paced book with plenty of plot twists and turns that had me hooked right until the end! I would highly recommend it to any science fiction/fantasy fans (and even to those who aren't fans)! I'm looking forward to reading the next instalment already.
Shola Yates - Waterstones - 5/5
Knights Thranis

| Volume #2 | The Chronicles of Freylar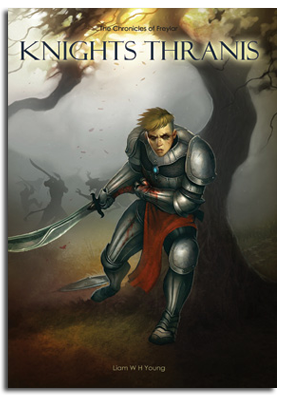 The Blades are left reeling in the wake of the recent invasion of Freylar as they struggle to reconcile their losses and bolster waning morale. Recruitment is at an all-time low and The Vengeful Tears – an increasingly zealous band of surviving Blades led by Anika – become cause for concern. In a desperate attempt to solve the problem, Anika is chosen to accompany Rayna, who is tasked with the onerous mission of establishing a new trust with the estranged Order of the Knights Thranis. Together she and Rayna must journey to Freylar's southern lands to mend the fractured alliance between the Orders. Pledging their services to the Knights, the pair engage in The Hunt in a bid to prove their worth. However, before Anika can earn the Knights' trust, she must first repair the damage to her own soul.
During their secondment to the Knights Thranis, Anika and Rayna learn more about the mysterious Order and its true motives – and more importantly, about themselves. Yet while they fight alongside their new companions, seeking to earn the Knights' trust, their domain faces new challenges; previously strong relationships begin to crack and old enemies bide their time in the shadows, licking wounds and harbouring grudges, whilst scheming Freylar's newest downfall.
You can preview the eBook here on Amazon Kindle.
Also available through the following online stores:








Reviews
"Throughly enjoyable"
After having read Second Chance not long after it came out I couldn't wait to get stuck into Knight's Thranis and I wasn't disappointed! Rayna's story continues with a journey to train with the Knight's Thranis and We are introduced to a multitude of new characters including the dark and sinister Krashnar who is such a terrible and loathsome being that I couldn't help but immediately adore this new addition to the Chronicles of Freylar! We also get to see much more of Blade Aspirant Anika as she grows into a really interesting individual within the cast in her own right. We also get to see some of a new enemy in the Ravnarkai and more of the old enemy Darla and Lileah. All in all a terrific read with great pace and a wonderfully crafted plot, Liam Young has become quite the accomplished author. Can't wait to sink my teeth into the next one!
D M Hayes - Amazon US - 5/5
"The best fantasy novel I have read in a year..."
I was extremely curious about this book. I have read the prequel and I know that it is always a very complex task to build up a whole new universe that captivates the reader. Luckily the author managed to spin up the story so quickly in this book that has cast the reader into the colourful whirlpool of events. While reading on, surprises just kept coming on all storylines that are followed in this book. Lively and complex characters, trials of virtues trough hardsips and adventures. Never a dull moment! I have read countless fantasy books, but Knights Thranis "takes up the gauntlet" to be counted among the real good ones!
Edgar B Thurson - Amazon US - 5/5
"Compulsive reading"
Thank goodness I had broken my arm, it meant once I started the book I didn't need to put it down! Exciting and unexpected ending. Bring on series 3.
S J Coole - Amazon UK - 5/5
"Top notch follow up"
Having read a second chance and thoroughly enjoyed it (except perhaps the cliffhanger ending 😉) I was interested to see where the story would go in the follow up. Once again the author does not disappoint. The story ticks along nicely while spending almost equal parts in Freylar and the other realm with Callum before he became Rayna in book 1. I for one am interested to see where this alternate story path will take us in future instalments. Overall another intriguing and exciting tale which mixes equal parts character development action and mystery into a thoroughly engaging read. Can't wait for book 3!
David Padwick - Amazon US - 5/5
"More adventures in Freylar - I'm hooked"
This is the second in the Chronicles of Freylar series. If you've already read the first book, Second Chance, then you know Liam's writing style, the wonderful world of Freylar, and the main characters. If you haven't read it yet, you need to to understand this one. In Knights Thranis, we continue following the adventures of Rayna and the others, as well as more of Callum's back-story, and meeting new characters. I thoroughly recommend it, I was hooked from the start. A word of warning – the way this book ends, you will want the next in the series…
Melanie C W - Amazon UK - 5/5
"Fantastic book"
Brilliant read - really disappointed when the book finished - I need to know what happens next!! Can't want for the next book in the series.
C E Field - Amazon UK - 5/5
"A Solid Read"
I really enjoyed the world which Liam Young has created and has been a delightful read to keep me entertained. It's made its way onto my regular reading shelf.
Rebekah Lickiss - Amazon UK - 5/5
Shattered Exile

| Volume #3 | The Chronicles of Freylar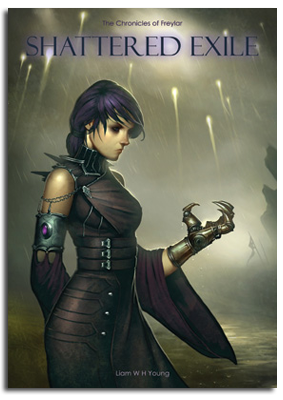 Now recovered from her terrible wounds, a vengeful Lileah returns to Freylar, driving a renewed invasion that threatens to destroy the Freylarkai. Meanwhile, the sinister shaper Krashnar has infiltrated the vale, garishly working his way towards the very heart of Mirielle's empire, over which her once-loved rule is waning, causing Freylar's queen to tighten her grasp. Amongst those caught in the wake of Krashnar's destruction is Rayna. The enigmatic light bringer must find a way to defeat the growing darkness inside her, in a desperate bid to slay her demons, both past and present, to finally put them to rest.
Caught between Freylar's growing internal and external pressures, Kirika – the newest member of Freylar's ruling council – must choose between her loyalty to the council and her sister Darlia, an infamous scrier, who has returned from exile to herald the approach of Freylar's ruin. The burden of foresight now lies with the estranged sisters who must find the confidence and strength required to navigate Mirielle's capricious leadership and rally the Freylarkai to defend their domain.
You can preview the eBook here on Amazon Kindle.
Also available through the following online stores:








Reviews
"A book you cannot put down"
This was supposed to be my reading material for my holiday. A couple of weeks before I went, I decided to read the first chapter. By the time I went away, I only had 2 chapters left bearing in mind there are 22 chapters in total! The book keeps you on your toes and I can't wait for volume 4. Well done again Liam.
S J Coole - Amazon UK - 5/5


Gallery | The domain of Freylar
Principal artist for The Chronicles of Freylar: Hardy Fowler @ FOWLERILLUSTRATION.

Media | Free downloads
The below wallpapers are free to download and use on your personal home electronic devices. The contents of these wallpapers may not be reproduced, under any circumstances, without express consent from the copyright holder.
Desktop Wallpapers
SmartPhone + Tablet Wallpapers